Success Stories
Just some of the exciting members of the community we have helped
Forest Community Garden in Strathkinness a Success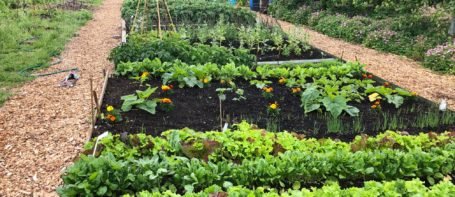 The result has exceeded all our expectations
The Trustees at St Andrews Community Trust were delighted to support Strathkinness Community Trust with their community garden project.
Since forming 10 years ago, Strathkinness Community Trust has aimed to make available a range of locations around the village that offer its members and the community pleasurable recreational pursuits for all ages. Their new Forest Garden is the latest of their projects to be completed.
When the owner of the land on which they have their Community Garden and Orchard kindly released a further 300 square metres they advertised a new communal growing venture rather than traditional allotment plots and immediately had a team of 16 volunteers working on the initial ground preparation. The "Forest Garden" approach has tall standard trees on the northern perimeter followed by lower soft fruit bushes and finally a "no dig" annual and perennial vegetable bed.
All the vegetables will be raised by team members from seed. The garden will be developed organically with no insecticides, fungicides, herbicides or inorganic fertilisers. All produce will be shared and all labour input is voluntary.
This is a new way of enabling members to grow organic food collectively as there is not enough land to provide allotments to an ever-increasing waiting list. They currently have 21 families working together on the garden. The project is open to all in Strathkinness and surrounding communities and is available to all levels of expertise and ages.
The garden, located along Bonfield Road, is open every day of the year for visitors.
"The result has exceeded all our expectations and should continue for many years. Thank you for your support – Robert Bilson, Strathkinness Community Trust"